As I announced on my Facebook page last month, the Jersey Village City Council is being asked to consider moving a proposed dog park from its original location near the Jersey Meadow detention pond to a location just across White Oak Bayou from Clark Henry Park. Here is the proposed layout for the new location: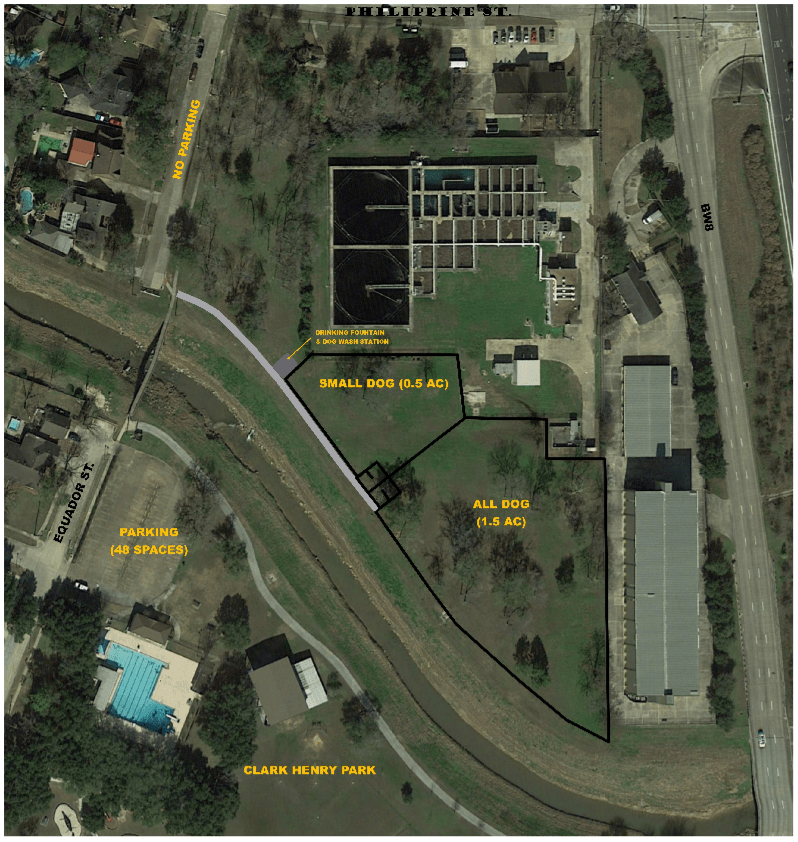 Aside from where the dog park would be located within this proposed location, there have been a series of other questions which I believe need to be answered in order to avoid rumors or misunderstandings from spreading.
Why is the location now being moved? Why not build the dog park at the originally planned location?
As I wrote back in August, the city has run into a number of problems in reaching an agreement with the Harris County Flood Control District on the data they would need in order to approve the construction of the dog park on their land near the Jersey Meadow detention pond. The HCFCD requested, in addition to the original drawing produced to them in our initial request, the following documents:
A drawing of the layout of the dog park (sent to two different departments)
A copy of the interlocal agreement between the city and the flood control district
An engineered drawing of the dog park stamped by a licensed professional engineer
A permit for construction of the dog park
A maintenance access plan
Right of way identification information
Construction drawing notes
Stormwater pollution prevention information
After discussing the amount of work needed to produce all of the documents with our city engineer, it was estimated that it would cost the city an additional $20,000 just to meet these requirements. That represents a 40% increase in the budget to build the dog park.
Worse yet, there is no guarantee that HCFCD would approve the construction of the dog park even after all of this work and expense was incurred by the city.
Let's be clear about what is being requested: the HCFCD believes that a professional engineer approved drawing is necessary to build a fence and install some park benches. This is the sort of absurdity folks picture when they talk about the inefficiency of government.
I don't think it makes sense for citizens to pay for such unreasonable requests. Therefore, I think city staff was absolutely right to bring this matter back to city council to discuss a move.
Citizens were asked to select a location and the majority preferred the detention pond? Why aren't we honoring the wishes of of the citizens?
Believe me, I would rather build the dog park at the detention pond than the secondary location. But, as noted above, the added cost of doing so would be poor value for the citizens of Jersey Village.
I don't think it's fair to say, as some have suggested, that since the original location is no longer available, we should just give up on building the dog park. That assumes that citizens who voted for the original location near the detention pond were adamantly against the second location (or any other location). It's possible that they simply preferred one over the other, but would be fine with either.
I would have no problem with revisiting the location with citizens through a new poll. It would, however, require us to develop additional alternative locations in order to provide citizens options. That is an option that can be discussed during our city council meeting.
I'm concerned about additional traffic and parking on and near Philippine. What can the city do to address this?
Philippine is a major route into the City of Jersey Village. It has been and always will be a high traffic area. In this case, however, any concerns about additional traffic on this street or adjacent streets can be easily addressed.
The city can designate parts of Philippine as "no parking" zones and implement parking by permit only on adjacent streets if it is discovered that people who do not live on those streets are parking on them to visit the dog park. We have successfully implemented a similar system for the streets surrounding Jersey Village High School and could easily extend such a system to streets such as Ecuador, which is the closest side street to the newly proposed location for the dog park.
Are there alternative locations to consider?
This all depends on what we want out of the dog park. The original concept was to dedicate 2 acres of land to the dog park, with 1.5 acres allocated to large dogs and a half acre to small dogs. If we were willing to pursue a smaller area, it may be possible to build in another location.
We would, however, want to ensure that whatever location has sufficient parking for those coming to the dog park. The two original proposed locations had parking lots with ample capacity.
Also, it's apparent now that we will need to build on land either owned by the City of Jersey Village or over which we have sufficient control as to avoid the same bureaucratic mess which is now forcing us to look to alternate locations. At the moment, there's not a clear alternative. I am open to suggestions, however, so feel free to e-mail me with your ideas.
Maybe the city should just drop the idea of a dog park for now?
If it is determined that the alternative location is unsuitable, that might be our only other option for the near future.
Based on all information currently available, however, I do think the location near Clark Henry Park is suitable and will not pose any undue burden or impact on citizens who live nearby.
Shouldn't the city focus on beautification of our city instead?
We can do both, and we are doing both. The city council approved a Gateway and Wayfinding Master Plan earlier this year. You're already seeing the first steps of this plan in action with the replacement of all street signs in mid-November. City council entered into a contract with landscape architecture firm Clark Condon to handle design, development, construction drawings, bidding and construction administration for new gateways and LED marquee signs throughout the city to replace existing entrances and the old changable letter marquee signs. Construction is expected to be finalized by the end of 2019.
Pursuing a dog park, however, has no impact whatsoever on implementation of the Gateway and Wayfinding Master Plan.
What if I have additional questions or want to provide additional input on this process?
Contact me via e-mail at bwarren@ci.jersey-village.tx.us or call me on my personal cell phone at 713-515-2958. I would be happy to discuss this topic with you further.